Looking to
sell
3" records or turntables? Check
this page
.
As the original 8ban records were discontinued in 2005 and the only 3" records produced since then have been limited editions, like the White Stripes releases, or otherwise limited like those released for Record Store Day 2019, options for buying three inch records have been similarly limited.
3" Records for Sale
We've been able to acquire some extra copies of various 3" records and rather than sell them at auction we decided to offer them here first for people who may have picked up a 3" record player but need more records to play on it (we have almost all of the 3" 8-ban records ever produced and still want more records to play on our 3" turntables).
UPDATE: The extra mini turntables we aquired have all been placed with a good home. We'll update this page if we get any more.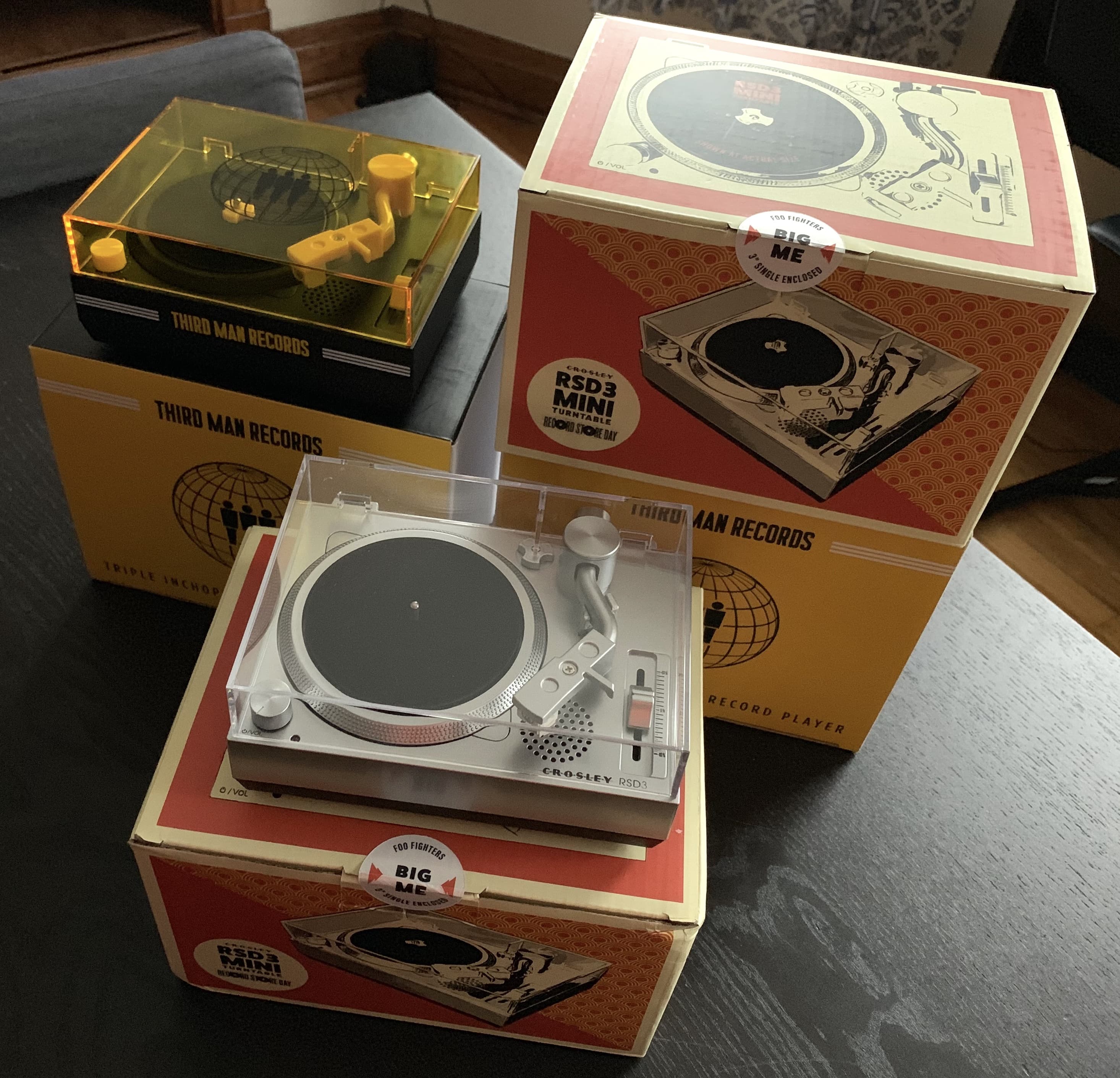 Retail
Independent record stores are generally awesome and you should definitely buy the majority of your records from local shops, but in case you don't live near a local shop, there are some indies that sell records online and generally always have the new 3" releases available for preorder:
If your shop sells 3" records online send us a message and we'll add a link!
Three Inch Records Aftermarket
The aftermarket for 3" records and turntables is largely the same as the aftermarket for other kinds of records and equipment - sites like eBay, Discogs, Yahoo Auctions Japan, and other marketplaces and auction sites.
Look to this space for future links to buy new and used 3" records and mini turntables.
A Brighter Future?
According to Deer Park Distributors (the exclusive distributor of both the Crosley RSD3 mini turntable as well as all of the 2019 Record Store Day 3" releases), "Record Store Day plans on releasing a bunch more 3" records in 2019 and beyond." The Recore Store Day Facebook page also mentions that they're planning on further releases in 2019 and beyond (although one imagines that it will depend on the success of the RSD sales as well as the ability for Toyokasei, the pressing plant, to produce these little records in volume).
You can sign up to be alerted when new 3" records are produced on the Record Store Day site.