After a spectacular re-debut of 3" records for Record Store Day all we know is that Record Store Day (the organization) has promised that there would be additional titles, and possibly additional non-limited Crosley turntables released to help increase demand for the medium.
When the original 8-ban record series were released they came out in five themed series, including anime theme songs, songs from a popular children's variety show, songs from pop groups from the 1980s, and a series of oldies from Western artists.
The three inch records released for RSD 2019 were all label-based, which was a great way to kick off a special re-release, but we thought it may be fun to pick up titles in multiple series that fit a theme. Since all of the 8-ban record series from Bandai contained 16 titles each we're limiting our lists to only 16 titles, but if 3" records are to have any kind of sustainability (and it's not assured that they will at this point) then having more titles in the format would be desirable for everyone who shelled-out $70 for a new turntable that can only play a few records.
This list is essentially three inch record fanfic, but while we wait for any official announcements of upcoming titles it's fun to dream of what could be (assuming legal rights to these titles are possible to procure - these lists don't have to worry about practicality).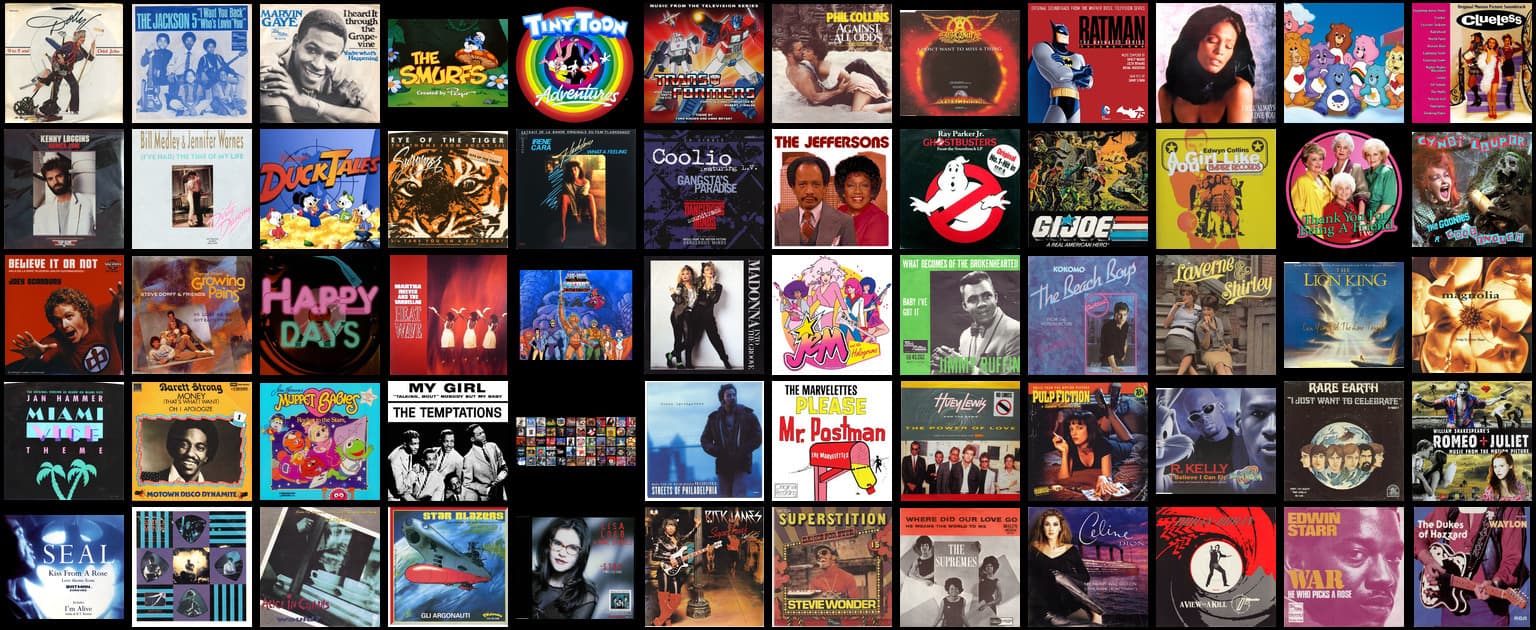 Best of Saturday Morning Cartoon Theme Songs
The 1980s were the golden age of Saturday Morning Cartoons, and people of a certain age, like say, people who would be willing to buy a turntable for 3" records, may want to buy some nostalgia and hear theme songs from their lost youths.
Transformers
G.I. Joe
Gummi Bears
Thundercats
Inspector Gadget
Duck Tales
Teenage Mutant Ninja Turtles
Muppet Babies
Jem and the Holograms
He-Man and the Masters of the Universe
She-Ra Princess of Power
Care Bears
Star Blazers
Tiny Toon Adventures
The Smurfs
Batman the Animated Series
Motown Sound Part 1
Short Motown songs would be amazing on the 3" format. Here are sixteen defining tracks for the label that founded a genre of music that inspired and influenced so many artists that followed.
Money (That's What I Want) – Barrett Strong
I Heard It Through The Grapevine - Marvin Gaye
My Girl - The Temptations
Where Did Our Love Go? - The Supremes
I Want You Back - Jackson 5
(Love Is Like a) Heatwave - Martha & The Vandellas
The Tracks of My Tears - Smokey Robinson & The Miracles
Baby I Need Your Lovin' - Four Tops
This Old Heart of Mine (Is Weak For You) - Isley Brothers
My Guy - Mary Wells
Please Mr. Postman - The Marvelettes
Super Freak - Rick James
War - Edwin Starr
Superstition - Stevie Wonder
What Becomes of the Brokenhearted - Jimmy Ruffin
I Just Want to Celebrate - Rare Earth
TV Theme Songs
My criteria for these is really just "great songs" that I'd love to buy on 3". There could arguably be TV theme song series from the 1950s, 60s, 90s, etc, but these themes from the 1970s and 80s hold the biggest affection in my heart.
Happy Days
Laverne & Shirley
Charles in Charge
Fame
The Facts of Life
Cheers
Family Ties
Growing Pains
Miami Vice
The A-Team
The Dukes of Hazzard
The Love Boat
Greatest American Hero
The Jeffersons
Diff'rent Strokes
The Golden Girls
At the Movies - 1980s
Continuing with our nostalgia-fest, "At the Movies" celebrates themes and hit songs from some of the most beloved films of the 1980s…
Ghostbusters - Ray Parker, Jr.
Danger Zone (Top Gun) - Kenny Loggins
9 to 5 - Dolly Parton
The Power of Love (Back to the Future) - Huey Lewis and the News
The Heat is On (Beverly Hills Cop) - Glenn Frey
Into the Groove (Desparately Seeing Susan) - Madonna
Against All Odds (Take a Look at Me Now) - Phil Collins
Don't You (Forget About Me) (The Breakfast Club) - Simple Minds
The Goonies 'R' Good Enough - Cyndi Lauper
A View to a Kill - Duran Duran
Eye of the Tiger (Rocky III) - Survivor
Oh Yeah (Ferris Bueller's Day Off) - Yello
Kokomo (Cocktail) - The Beach Boys
Glory of Love (The Karate Kid Part II) - Peter Cetera
Flashdance… What a Feeling - Irene Cara
(I've Had) The Time of My Life (Dirty Dancing) - Bill Medley and Jennifer Warnes
At the Movies - 1990s
… and '90s!
I Don't Want to Miss a Thing (Armageddon) - Aerosmith
Gangsta's Paradise (Dangerous Minds) - Coolio
Kiss from a Rose (Batman Forever) - Seal
Regulate (Above the Rim) - Warren G
Supermodel (Clueless) - Jill Sobule
I Believe I Can Fly (Space Jam) - R. Kelly
Lovefool (Romeo + Juliet) - The Cardigans
A Girl Like You (Empire Records) - Edwyn Collins
My Heart Will Go On (Titanic) - Celine Dion
Stay (Reality Bites) - Lisa Loeb
I Will Always Love You (The Bodyguard) - Whitney Houston
Can You Feel the Love Tonight (The Lion King) - Elton John
Streets of Philadelphia (Philadelphia) - Bruce Springsteen
Wise Up (Magnolia) - Aimee Mann
Would? (Singles) - Alice in Chains
Miserlou (Pulp Fiction) - Dick Dale and his Del-Tones
Go Punk Yourself
Since we just got four releases from Epitaph records, why not add to that with some classic punk rock short songs.
I Like Short Songs - Dead Kennedys
Blitzkreig Bop - The Ramones
London Calling - The Clash
Pretty Vacant - Sex Pistols
Search and Destroy - The Stooges
Repeater - Fugazi
Institutionalized - Suicidal Tendencies
Last Caress - Misfits
Holiday in Cambodia - Dead Kennedys
Complete Control - The Clash
Kick Out the Jams - MC5
Nervous Breakdown - Black Flag
21st Century Digital Boy - Bad Religion
Blank Generation - Richard Hell and the Voidoids
Sonic Reducer - Dead Boys
Sex and Drugs and Rock and Roll - Ian Dury and the Blockheads
Meet the Beatles
3" records aren't the first pocketable vinyl format. In the late 60s Philco released a series of 4" flexidiscs called "Hip Pocket Records." They were terrible sounding and wore-out after as few as a dozen plays, but what killed them even faster was a competing format (one may say, a rip-off format) called "Pocket Disc" by Americom. Pocket Discs were also 4" flexi discs, but they were sold in vending machines and were slightly cheaper. Their biggest coup, though, was that Pocket Disc had an exclusive on some Beatles releases, and Hip Pocket Records did not.
Both formats only lasted a few years but while Hip Pocket Records regularly sell for just a few dollars on the aftermarket, Pocket Disc Beatles records routinely sell for several hundred dollars.
While they're no longer a hot young band, they're still The Beatles, and I can't think of a better series that would make the 3" format skyrocket in immediate popularity than the Fab Four.
Please Please Me
Twist and Shout
All My Loving
I Saw Her Standing There
Ticket to Ride
A Hard Day's Night
Help!
She Loves You
I've Just Seen a Face
Can't Buy Me Love
I Want to Hold Your Hand
Yellow Submarine
Penny Lane
Tomorrow Never Knows
Strawberry Fields Forever
Yesterday